By Pete Lambro

The summer heat has crept up from behind us and mercilessly shredded out thick wintry layers down to lighter and more revealing warm weather clothing. But fear not movie goers, for nothing can beat the feeling of a cool blast of movie theater air conditioning hitting you in the face after that arduous trek through the shopping center parking lot. Oh hot asphalt, you are a harsh mistress indeed. Without further ado, here are the big budget summer blockbusters we're looking forward to the most.
X-Men Origins: Wolverine
In theaters May 1. Starring Hugh Jackman and Liev Schreiber
Kick-starting the new X-Men Origins series comes the legendary tale behind the our favorite hero. Hugh Jackman returns as metallically endowed Wolverine in what looks to be an exciting, action-packed adventure filled with much more slicing and dicing than any one person should ever be subjected to. Joining him is Liev Schreiber as fellow experiment and antagonist, Sabertooth. Expect to see cameos from other X-Men we've seen before, as well as some familiar comic book faces making their on-screen debut. If this release goes well we can look forward to a long line of sequels and spin offs. More mutants means more fun I always say.
Star Trek
In theaters May 8. Starring Chris Pine, Zachary Quinto and Eric Bana
Boldly going where no filmmakers have gone before, J.J. Abrams' upcoming Star Trek explores the roots of one of the most popular and important series in science fiction history.  The story follows many of the original characters in their younger years, specifically Kirk's journey to become captain of the Enterprise, ultimately seeing them square off against Eric Bana as the leader of a new Romulan threat. As a longtime science fiction fan, the adventures of Kirk and Spock have played an important role in my life. I trust Abrams and his new Enterprise crew to carry on the Starfleet Federation legacy. And if the trailers are any indication, my trust is well placed.
Terminator Salvation
In theaters May 21. Starring Christian Bale and Sam Worthington
Terminator 2: Judgment Day still stands as one of the finest action films ever to come out of Hollywood. It was a satisfying resolution to the impending doom that humanity supposedly faced. Then audiences were subjected to Terminator 3.  By undoing all that T2 established, the third installment paved the way for Terminator Salvation. The film focuses on the grown-up soldier and commander John Connor as he leads humanity in the fight against Skynet's forces. The gritty, post-apocalyptic future has never looked better and I feel that Christian Bale's star power is enough to carry the series without Arnold. Look forward to fast paced action, explosions and some serious gunplay. And I know it won't be worse than The Sarah Connor Chronicles.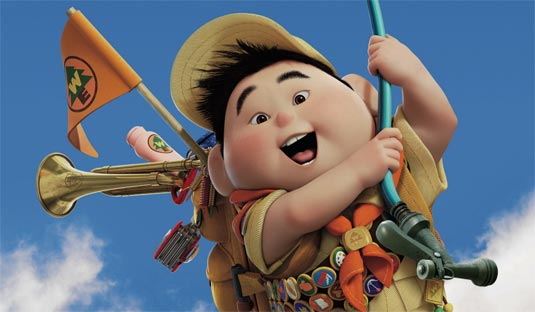 Up
In theaters May 29. Starring Edward Asner and Christopher Plummer
The animators at Pixar have their work cut out for them this year. Last year's Wall-E rolled its tiny treads from the screen into our hearts. Up tells the story of 78-year-old Carl Fredricksen and his balloon-powered flying house. Joining him is 8-year-old Russell, who gets involved by being on the wrong doorstep at the wrong time. The flying home sets them down in the Venezuelan jungle where they encounter wild creatures, deadly plant life and a talking dog with a short attention span. Up looks to be a valuable entry to the Pixar library and I guarantee will best whatever DreamWorks craps out.
Land of the Lost
In theaters June 5. Starring Will Ferrell and Anna Friel
Following the trend of reviving 70's television shows in the form of big budget feature films comes Will Ferrell's Land of the Lost. Based on the original series, not the 90's revival, the film follows Rick Marshall (Ferrell) and his team as they get transported to an alternate universe complete with monkey people, lizard people and dinosaurs. Whether or not they'll get home in one piece is the question here, but either way the film looks to be very entertaining. The trailer showcases the sharp wit we all know Ferrell possesses as well as a handful of sight gags. Together with a visually impressive setting, the summer '09 comedy circuit seems to be in safe hands.
Transformers: Revenge of the Fallen

In theaters June 28. Starring Shia LaBeouf and Peter Cullen
2007's Transformers brought to the big screen one of my favorite childhood franchises and some of my favorite characters. Longtime fans had their complaints, but overall it proved to be a satisfying and action packed robotic romp. The sequel, due out this summer, rejoins Sam Witwicky as he starts his college career, only to have it interrupted by the appearance of the Decepticons. The new movie aims to delve deeply into history of both the Autobots and the Decepticons and of course, keeps their battle here on Earth. Joining the fight are the new Decepticons, the Pretenders, who can take human form, and the ancient transformer known only as "The Fallen". The Fallen's appearance hints at the inevitable appearance of Unicron, the planet-destroying transformer once famously portrayed by Orsen Wells.  The trailer shows a good deal of action and it's safe to say it looks significantly better than the 2007 film. With fewer cuts, it's clear to see the actions each robot takes within the fight.  If all goes well, this film will top the previous Transformers and keep the series fresh and fun for old fans as well as new ones.
Public Enemies
In theaters July 1. Starring Johnny Depp and Christian Bale
Depp and Bale together at last! That's almost enough reason to see this. Public Enemies is Michael Mann's latest film, set in the 1930's at the start of the war on organized crime. Depp takes on the role of John Dillinger, notorious bank thief and con-man. Bale plays Melvin Purvis, the man charged to take down Dillinger and stop his crime spree. Purvis succeeds, but soon after his incarceration Dillinger mounts an escape and goes on the run. Seeing these two square off, tommy guns in hand, should be a thrilling ride. The trailer takes its time showcasing the brilliant looking set design, perfectly capturing the look and feel of 1930's America.  Releasing in midsummer, Public Enemies aims to be a strong contender for the best summertime movie and its strong cast and aforementioned design put it close to that mark.
Harry Potter and the Half Blood Prince

In theaters July 15. Starring Daniel Radcliffe, Rupert Grint and Emma Watson
My relationship with the Harry Potter film series is an awkward one. I am a huge fan of the book series as well as the film series, but the recent installments, most notably Harry Potter and the Order of the Phoenix, have served less as a replacement for the book and more as a visual aid. As one of the most action heavy of the series, Harry Potter and the Half-Blood Prince looks to be a thrilling entry, earning it a summer release rather than the traditional November release to which we have become so accustomed. This film sees Harry and company squaring off against Voldemort's forces face to face as Harry unravels mysteries from the past and explores Dumbledore's most important memories. Expect to see some wondrous witch, wizard and wand action in this, the 6th installment of the Harry Potter series.
Funny People
In theaters June 31. Starring Adam Sandler and Seth Rogen
Judd Apatow returns to the director's chair for the first time since Knocked Up, even though he was tied in one way or another to several comedies in between. Joining him is Adam Sandler, along with the usual players in any Apatow affair: Seth Rogen and Jonah Hill. Sandler and Rogen essentially play themselves, changing the medium from film to stand up comedy in what looks to be another in a series of comedies dealing with serious subject matter, a specialty of Apatow's. Sandler plays George Simmons, renowned comedian and actor, who befriends and employs the talents of newcomer, Ira Wright (Rogen). Sandler has a near death experience in the form of a terminal illness he miraculously overcomes, and with Rogen's help he tries to win back the girl who got away. Funny People looks to be the right combination of comedy and drama, earning it a spot on the list of the summer's most anticipated flicks.
Inglourious Basterds
In theaters August 21. Starring Brad Pitt and Diane Kruger
Quentin Tarantino makes a damn fine flick. There, I said it. I enjoy his movies. That being said, Inglorious Basterds looks amazing. Set in Nazi occupied France during World War II, the film follows the semi-true tale of the United States army squad known as "The Basterds." Charged with the mission of infiltrating Nazi occupied France and killing as many Nazis as possible in the most brutal and intimidating fashion imaginable. Joining them is a young Parisian girl who runs a movie theater that has been commissioned to show the latest Nazi propaganda film. The perfect setting for The Basterds to strike? Check out this late August release to find out.