It's 9 o'clock on a Tuesday and the regular crowd shuffles through the peeling, whitewashed French doors of Stony Brook's Velvet Lounge. The open mic only comes once a week and sign-ups are already an hour old. Jackie Guma, director and host, opens the show with her usual announcement.
"We've got a great show for you guys, free curry at 10 and we've got Danni Christian and Kevin Fisk behind the bar…it's gonna be a good time. Happy Tuesday."
Patrons cast thin shadows on the exposed red brick behind the bar as they find seats or squeeze into the negative space between stools. Danni takes a moment to brush her blonde hair out of her face. Already the volume is going up as conversations clash and she leans across the bar to hear drink orders.
Kevin stuffs his black hoodie somewhere under the bar and stretches his tattooed arms before pouring the night's first shots. Some of the acts mill past the bar, casting glances at the chalkboard signs advertising house liquor and the full lineup of foreign and domestic beer. They'll return once they've stashed their gear somewhere in the back, between the shabby leather couch and chairs.
Overhead, the sounds of early 2000s pop-punk fade as Jackie takes the stage to introduce the first act. Dean is a tall man, clean-shaven with a shock of white hair. Tonight he's wearing a black sweater and blue jeans. He steps up to the mic and checks the tuning on his acoustic guitar, a Fender DC10.
"Alright, here goes."
Dean MacDonald is the former creative director for California's Mondo Media, the one-time top-ranked and all-time most popular YouTube channel. Laid off after 24 years, Dean was able to come east and step in to care for his ailing father-in-law, who suffers from Parkinson's disease, after his mother-in-law's death. 
Primarily a visual artist, he decided three years ago to start exploring music.
"I've always loved music, always kinda wrote songs in my head," he says, "so three years ago in April I said I was gonna start going to open mics and start writing songs and performing and learn how to do this, do music."
His first stop was the Bazaar Café in San Francisco, where he sang an original song a cappella for his daughter. Dean added guitar to his songs as he learned new chords, freely admitting he knows nothing about music theory. Despite the new medium, he is able to apply his previous art experience to music — looping through chords, playing "shapes" as he calls it, to better visualize his songs.
"I don't know any covers, I only do originals," he says. "I have about 18 songs I cycle through and… every time I play a song… in a kinda public space like this, I put a notch on the guitar and by the time I make it all the way around, I'll know how to play."
Dean finishes the last of his three allotted songs to scattered applause and steps aside for Jackie to take the stage and sign him off. He tucks his guitar safely away in the back and grabs the beer he left on the bar, waiting for the next act. The small crowd doesn't bother him — he goes first every night for that reason, hoping to recreate a coffee shop atmosphere like back home in San Francisco.
"If no one's paying attention it's okay. It's cool cause I need to practice anyway," he says. "It's better if they do…but I need the practice so it's like 'okay, no one's seeing me fuck up.'"
The Velvet Lounge is a small, bohemian appendage jutting out from the intersecting railroad cars that form a restaurant in Stony Brook called the Curry Club. Black shelves ring the red walls inside. Abstract, acrylic landscapes share space with mixed media portraits of pop culture icons like Bill Murray and Amy Winehouse. Graffiti and street art sit side by side with fine art reproductions, like the copy of Goya's "Saturn Devouring His Son" that sits above the two-tray curry buffet.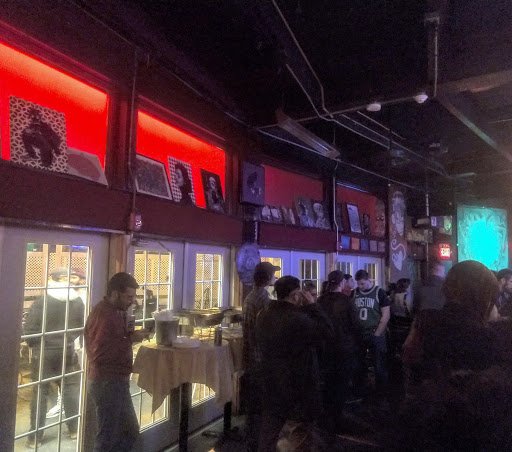 Black and red bodies writhe on a large canvas dominating stage left. The flashing multicolored lights create an illusion of movement. A chalkboard behind the stage advertises other events on other days — karaoke on Monday and a free jazz jam on Sunday.
Jackie weaves through the swelling crowd. Although she is dwarfed by most of the patrons and performers, her energy and huge smile are like a lighthouse in a stormy sea. It seems like everyone walking through the French doors knows her enough to say "hey." Some of them buy her a drink or a shot, but she's careful to pace herself. This thing goes until 1 a.m. so she's got to be on her toes.
Two young men are on stage covering "I Will Follow You Into The Dark" by Death Cab for Cutie. When they finish, the one on the left in the blue flannel shirt steps off to a quick round of applause. The man with curly black hair who stays behind fiddles with the strings on his sunburst acoustic guitar for a moment, as if stalling for more time. He adjusts the mic stand and reintroduces himself to the bar as Sirius — "like the star."
"I don't know about you, but I suffer from seasonal affective disorder — which means I write really happy songs in the summer and sad songs in the winter," he says. "So I've been writing more sad songs lately. This one is called 'Don't Go.'"
Next to the bar, sequestered behind a small wall with her own personal service window for drinks, Christine Chiu, aka Flora for Fauna, sits with a mini gallery of her original art. The unframed prints of hand-drawn flowers and geometric patterns are propped against the wall, $5 for the small ones and $10 for the large. Tonight, she's wearing plaid pants and a big sun hat, a mix of punk and springtime-at-the-beach style.
"A lot of my art is definitely drawn from my own perspective," Christine explains. "My own emotions and images — patterns I've seen and put in my own style, things I've seen in my dreams. It's like a way of understanding my brain."
Flora for Fauna is perched between two long-term residents of the Velvet Lounge — a skeletal, black-and-red rendering of Michelangelo's "The Creation of Adam" and a portrait of a Spanish woman wearing a red dress with a Sharpie goatee and unibrow, casting a curious eye from her distressed, gold frame. They've been there for as long as anybody can remember.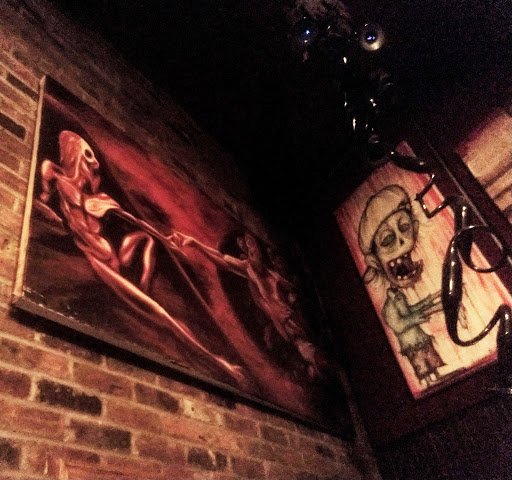 Steve Rocks is as much a fixture at the open mic as those paintings. Jackie calls him "part of the fabric of the place." He's been coming to play for the last five years, and always offers up the same song: Jeff Beck's cover of "Goodbye Porkpie Hat" by Charles Mingus.
"I guess it's just a song I like. I play it if I don't have a band," he says.
Like when a band jams so the lead singer can take a break, this song seems to signal the same for the quiet crowd. The bar empties as patrons go outside by the fire for a cigarette or a toke, but the few who remain are enraptured. Dean stands front and center watching Steve's fingers scramble up and down the fretboard of his black Fender Stratocaster.
"I'm gonna play part of another one cause it's just me — do any of you know a band called 'The Led Zeppelin?'" Steve's question goes unanswered in the nearly empty room. He launches into the first few bars of "No Quarter" before calling it quits to an enthusiastic, if small smattering of applause. The cheering isn't why he comes here anyway — it's the atmosphere he likes best.
"It's a cool bar, a nice community place," he says. "People are very friendly and everyone plays regardless of what they play. There's a good groove."
Jackie doesn't really get to go outside much on Tuesday nights. The hardest part of hosting, she says, is having to always be on time and present to make sure every act is introduced and signed off — but it's something she doesn't really mind.
"I love being able to create a vibe — create how everyone is going to feel, just making sure everyone is having a good time," she says. "It's nice to make an area, an environment where people feel comfortable."
The 15-minute sets breeze by, beer and wine flow, the curry buffet disappears and Jackie announces the next act. In the back, a woman is curled up on the couch, sleeping despite the volume. Jackie's brother Greg Guma is setting up one of his vintage typewriters nearby, an Olivetti Lettera 22 from around 1955.
"Haikus While You Wait" is Greg's collaborative art project between himself and whoever walks up to him, so far exclusive to the open mic night at the Velvet Lounge. Most Tuesdays he makes the trek out from the city to create haikus based on subjects given by anyone who cares to come by.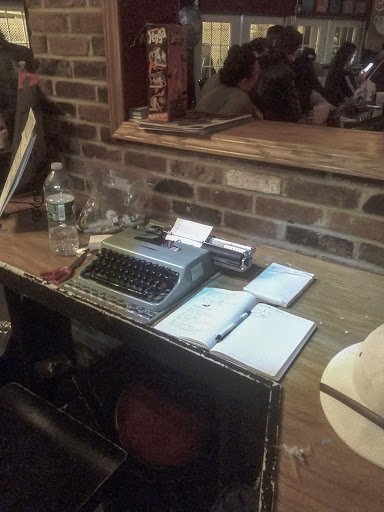 "It's not an incredibly original idea, there are people in major cities that do a similar thing, but the big difference between those guys and me is I don't charge any money — or expect any money — from anybody who walks up to me," Greg says.
He calls his haiku about Jackie eerily accurate:
"Jacquelyn Guma
Is slightly less punctual
Than the MTA"
Greg looks up at the art dominating the back corners of the bar. Some of the paintings have little "for sale" tags attached; others aren't even signed.
"So many art galleries are so curated — especially in the city. This place is just so organic," he says. "People can just come and slap something on the wall and nobody will take it down."
He points at the Spanish woman keeping Christine company. "I've been staring at this for years," he says. "And this." He gestures toward the skeletal "Creation of Adam." "I love this piece."
The last act of the night steps up on stage. He is a broad-shouldered man in a flannel shirt and baseball cap. He pushes up his black-framed glasses and takes a seat on a stool. He nods to what's left of the crowd after Jackie introduces him as Chris Irving.
"Alright, I'm gonna play you guys a few songs about Halloween — hope you like 'em."
The backing track for Depeche Mode's "Personal Jesus" starts up and Chris dives right in, regardless of who's left to listen.
Christine packs up what's left of her stock. She sold six prints tonight, including one to Danni behind the bar. Jackie sits on a stool sipping a Sprite, alternating between paying attention to Chris on stage and her brother next to her. Dean and Steve Rocks left hours ago. What's left of the crowd empties out into the cold, dark night. But even in the parking lot, the music carries on.