Tech Talk
Over the past few weeks, I have been flying a quadcopter equipped with a camera on Stony Brook University's campus, both during the day and night, to capture a unique perspective of the school from 400 feet up in the air. From the Roth Pond to Mendelsohn Quad and everything in between, I've been able to capture a bird's-eye perspective of the university.
The model I use is called the DJI Phantom 3 Advanced, which uses both standard GPS signals and Russian GPS signals called GLONASS for GPS acquisition and flight control. It has a sonar system on the belly which is used to determine height when the device is 15 feet above the ground or lower for more accurate readings of altitude and safer landings. Finally, there is a second fixed camera, also on the belly, that is looking for ground movement. If it determines the operator is not making inputs and the ground is moving, then it must be wind and the drone will correct itself to stay level and still.
Each battery lasts approximately 15 minutes, but I tend to fly with half of the power remaining for extra precaution in case the winds change direction and the quadcopter struggles to make it back, using extra battery life. Other features, such as switching to autonomous flight, uses more power to compute flight paths and monitor its own inputs when I'm not directly flying it.
For visuals during the flight, there is a direct connection to whatever device attached to the controller, such as an iPad or iPhone, by USB. A 720p video signal transmits back in real-time with very little latency so I can get proper exposure on the camera and flight data. The iPad displays information about the location of the quadcopter relative to me, the speeds of the vertical and horizontal movement and various menus of settings.
The camera's mechanics allow it to be self-stabilizing in windy conditions and it rocks a built-in 2.7K video camera that takes 12MP stills in RAW or JPEG format.
Soaring Above Brook
For the two videos that I shot during the daytime, I came to campus during the weekends when it would be less crowded. This afforded me a safety buffer should any unforeseen failure occur and allowed me to find an open space where I would not be approached while flying.
The night shots posed several challenges which I am still learning from. Even with the technology this device has, even high-end DSLR's need experience from the operator to shoot quality photos. Video was out of the question, as there was not enough light at my normal filming time of 11:00 PM. I started on Friday, September 3, to capture the night photos. During the two weeks before, I examined my flight paths I would take, surveying the area for any obstacles that I could not see at night. I took notes on each location and measured the height during the day with the quadcopter to determine the lowest altitude I could fly at night without running into anything.
After I edited my content, I started sending the photos and videos to various social media accounts on the campus, ranging from the general @StonyBrookU Twitter and Instagram handle, to specific department offices and even the hospital. The CEO and Founder of Shutterstock, Jon Oringer, found my footage after being tweeted by the executive director of alumni relations. I later found a "favorite" from him on my tweet from the former Seawolf and prominent tech leader himself. The Computer Science Department retweeted photos of the new building, with the Stony Brook University Medical Center sharing the photos of construction of the new children's hospital to their followers.
My tweets and content started being sent throughout the campus offices and online through Yik Yak and Reddit. The most common question I kept being asked was whether or not what I was doing was legal; I'd always answer, "Yes it is." And I'm not wrong. Any location I take off or land from, whether it be Stony Brook or a park or harbor, has the ability to stop me from doing so as I am on their property. However, only the Federal Aviation Administration can regulate airspace and where I can fly over.
Know What You're Doing
The only limitations are that the devices cannot be flown within a five-mile radius of an airport, with the same restriction applying to military installations and vessels. As far as flying over private property such as houses, which have a reasonable expectation of privacy, I do my best to make sure those do not end up in my final work to respect the homeowner's' wishes. My contact information is on every video, so should someone have questions or concerns over my flightpath, I can provide the flight log with GPS routes to show them my exact location.
When I am approached in public by people interested in what I am doing, I make sure to let them know that what I'm doing requires 100 percent of my attention and I'd show them the features once I'm safely on the ground. While it is marketed as an easy-to-use device, it can cause serious harm to both life and property, and I respect the device's capabilities to do those things.
After I've landed, I let them see my iPad's display and go over the technology the quadcopter has. I make sure to hand every person a business card when the conversation ends, so they can view my work from previous flights as well as the one they've just witnessed. When the time comes for strict regulation on hobbyists, I want to make sure I have a large base of references that can vouch for my safe flying practices and professional attitude of its operation.
While I may be flying with all safety concerns and laws in mind, there is one variable factor that could land me in jail for a long time every time I take off: the Suffolk County Police Helicopter. Unlike commercial and private aircraft, it can fly at an extremely low altitude. While I am limited to 400 feet, it has flown at 300 feet when approaching Stony Brook University Medical Hospital. While I don't know what legal battle may ensue should my quadcopter play "chicken" with the helicopter and collide, I take measures to avoid that. While I am flying, I am monitoring the helipad frequency over a radio to listen for any inbound flights coming to the hospital.
The flight crews are required to notify the hospital of their approach, in which I would immediately land the quadcopter and wait for their landing to recover it. So far, there has not been any close calls and I don't intend to lose that record. All frequencies for local airports are available publicly online, and I highly suggest people follow my habit should you chose to get into this hobby.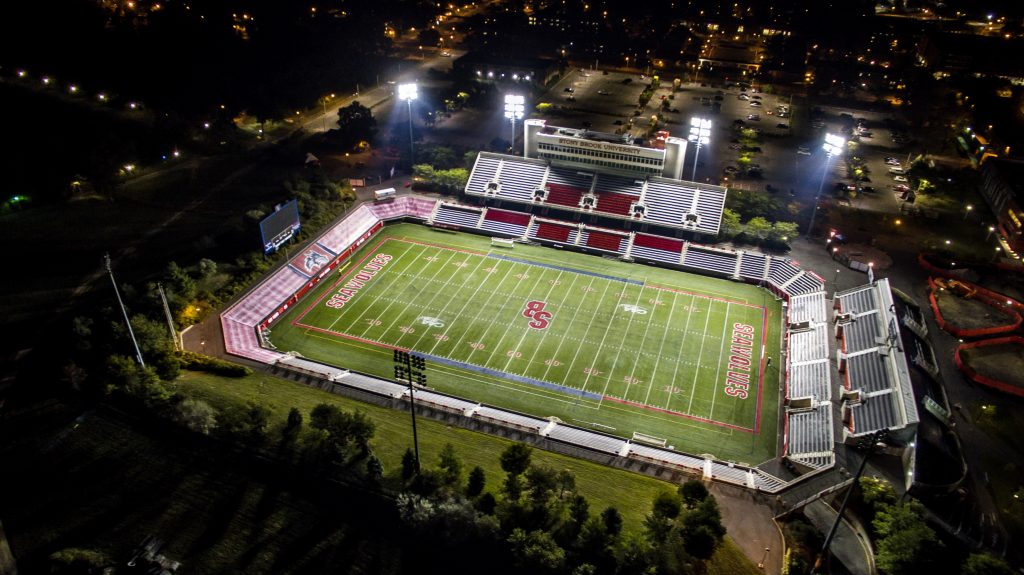 The Future is Flight
While I may have finished the tour of Stony Brook both day and night, the fun isn't over. I will be filming various events, such as the Homecoming football game, Roth Regatta and the change of seasons. I will continue to travel with it as well, filming various locations on Long Island and vacation spots as well.
For anyone wanting to get into this hobby, I highly recommend buying the Hubsan X4 quadcopter from Amazon or Ebay first and learn the basics without any GPS or other assistants helping you fly. It hurts your wallet a lot less crashing a $30 toy (which I might add is super fun to fly around your home or dorm room) than to crash a much more expensive device that can land you in legal trouble.
While this may be a hobby of mine, I treat it as a profession and want to continue to fly for years to come. If you or someone would like to learn more, my contact information is in every video and it's very easy to find me on social media. While I won't let you fly it, I'll be happy to educate you on everything I have to offer.